Courses Offered
---
B.Sc. in Microbiology & M.Sc. in Microbiology
Infrastructure
---
Laboratories :02
Instrument Room :01
Inoculation Room :01
Office of HOD :01   Staff Rooms : 02
Preparation Room : 01   Storage Room : 01   Chemical Storage room : 01
Washing room : 01

Books in departmental Library : 300 In central Library : 2500
Teaching Aids : 5 projectors, 07 computers, 04 laptops , Printer :01,
Microscope with digital camera : 01, Camera with 21MP and 50X zoom for research photographs
Access to internet via BSNL net
Faculty of Department
---

Dr. Shilpaben A. Jani
| | | | |
| --- | --- | --- | --- |
| Designation | Qualification | Specification | Date of Joining |
| Asso.Prof.  |   |  Microbiology | 21/08/1989  |
---

Parulben S. Bhatt
| | | | |
| --- | --- | --- | --- |
| Designation | Qualification | Specification | Date of Joining |
| Asso.Prof.  |   |  Microbiology | 10/05/1991  |
---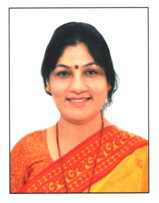 Prutha M. Soni
| | | | |
| --- | --- | --- | --- |
| Designation | Qualification | Specification | Date of Joining |
| Asso.Prof.  |   |  Microbiology |  08/01/1992 |
---

Amiben D. Purohit
| | | | |
| --- | --- | --- | --- |
| Designation | Qualification | Specification | Date of Joining |
| Asso.Prof.  |   |  Microbiology |  08/01/1992 |
---

Ajitbhai M. Patel
| | | | |
| --- | --- | --- | --- |
| Designation | Qualification | Specification | Date of Joining |
| Asso.Prof.  |   | Microbiology  |  10/06/1995 |
---

Rashmikant C. Patel
| | | | |
| --- | --- | --- | --- |
| Designation | Qualification | Specification | Date of Joining |
| Asso.Prof.  |   | Microbiology  | 08/01/1992  |
---

Dineshbhai S. Rabari
| | | | |
| --- | --- | --- | --- |
| Designation | Qualification | Specification | Date of Joining |
| Asso.Prof.  |   | Microbiology  |   |
Activities of Microbiology Department
---
Microbiology Department has its own name by its performance in academic, extracurricular, extension and research activities of staff members and students. We are happy to enlist major events of department carried out by students and staff members round the year. All departmental activities are carried out under the umbrella of Microbiology Study circle of the department.
Following Activities are routinely performed :
Organizing Model making exhibition cum competition on various topics for Sem-III microbiology students.
Get to gather: a get to gather function of all current microbiology students of Department is organized on 31st December of each year in which all students show their talents of singing, dancing, debating and other cultural events.
Extension activities of Department.
Department provides guidance and necessary cultures to the students of Pharmacy of DDU for dissertation study. Department also provides facilities to their alumni to carry out their dissertation work in the laboratory.
State level events :
As per MOU with GSBTM, Gandhinagar, Microbiology Study circle coordinates State Level Inter-Collegiate Competitions for Seminar Presentations, Scientific Article Writing, Extempore Elocutions, BioQuiz, Poster Presentation and Scientoon [BTtoon] under the aegis of Gujarat Integrate Bio Network [GIBioN] atvarious host colleges of Gujarat since last 28 years .
In the last week of December intra college competitions are routinely organized among students under the guidance of teacher in charges and selected students participate in final Inter-Collegiate Competitions.
Study Tour: Study tours are organized in which students participate with great enthusiasm. Study tours are aimed to study culture and historical monuments of our country and state.
Apart from these activities students also celebrate Independence day, Teachers day, Republic day, etc.
Our students also participate in UGC sponsored State level One Day Seminars and related competitions organized by other neighboring colleges
Our students also take part in a popular state level Exam organized by Gujarat University Each year namely, MinaxiLalit Examination for students of Biosciences.
Research activities :

1. Mr.Ajit Patel is doing his research work for his Ph. D.
2. Minor research project: two minor research projects are going on in the department.